Winter can be a tough time for a lot of people. The short days and unrelenting cold in Hamilton force people to stay inside much of the time, which opens them up to stagnation and, ultimately, unhappiness. Also, for some, winter is host to seasonal affective disorder (SAD) that can cause emotional anguish. For these reasons, it's important during the winter to have things to do, activities to partake in that will not only get your blood pumping and adrenaline flowing, but also take your mind off the miserable weather.
One such activity in Hamilton that's both entertaining and physically beneficial is axe throwing, which came to Hamilton last December when BATL, the Backyard Axe Throwing League, moved into the city. It's the perfect sport for winter, for a number of reasons – it's exciting, it's good exercise, it's competitive and it hones a new skill. During the winter, when many outdoor activities are not an option, axe throwing makes for a spectacular sport to either drop-in for alone, or to do with friends.
If you're looking to go axe throwing with your friends this winter, look at booking private lanes, which, in addition to giving you space, comes with an axe throwing lesson from one of BATL's expert coaches. Honestly, it's a pretty easy skill to pick up (mastering it is another thing entirely), and once you do you'll be able to compete with your friends by throwing axes at a wooden target. If you'd rather treat it as a solitary sport, akin to practicing darts at the pub, you can check out their public walk-in schedule.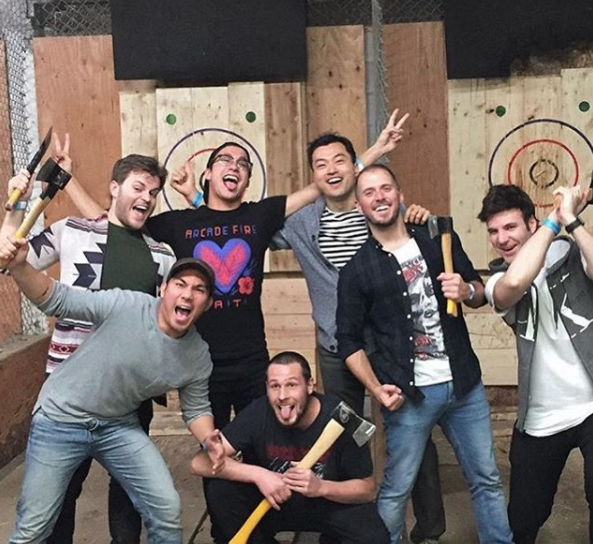 The first thing you'll notice about axe throwing is that it's a great distraction, and that's meant in the best way possible. It's easy to while away the hours throwing axes, because there's just something so satisfying about driving that axe-head into the wooden target. If you're someone who deals with a lot of stress around this time of year, or in general, axe throwing can be very therapeutic, in sort of the same way destruction therapy is (that new kind of therapy where you just smash objects with a sledgehammer), although axe throwing is more nuanced and physically beneficial.
Axe throwing is a great workout too for your shoulders, lateral muscles and core, meaning that you actually get to work up a sweat without having to plod away at the gym. Getting exercise while having fun is a great deterrent for the winter blues. Sitting at home and vegging out can be amazingly restorative, but too much of it is going to leave you sad and out of shape. By the time the spring rolls around, you want to be happy and in good health, so it's imperative that you try new winter activities, like axe throwing.
And, finally, when summer rolls around, you'll have learned a new skill that you can take outdoors, show off at your next cottage outing (though, please be careful!) or follow up by competing in a league.