If there is a new addition to the family that's on the way, you only have a short number of months to get the nursery ready. After getting the important elements like a crib, bassinet and changing table, you should decorate the room to make it feel right for the new baby. Instead of ordering off of an expensive registry, you can make these sweet and simple crafts for the nursery.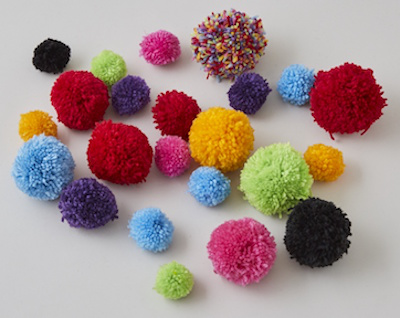 Pompom Rug
This a lovely addition to a nursery, and will continue to be a lovely addition when the baby grows older—when they are just learning to crawl, this pompom rug will be a soft surface for their hands and knees. You will need to make a lot of pompoms for this craft, so buy soft wool yarns in a variety of colours and sizes, then make as many pompoms that you can by hand or using a pompom maker. Get a non-stick rug mat and tie the pompoms through the holes in the mat, until they cover one side.
Pompom Mobile
If you have enough pompoms leftover from your first project, you can make a pompom mobile to hang over the baby's crib. You will need circular wire hoop and fishing line to attach the pompoms to the hoop. If you don't want the wire of the hoop to show, you can wrap the wire with yarn so it has a softer look—use a yarn that will match the colours of the pompoms, or the paint colour of the entire nursery. Play around with design ideas, like how many pompoms should dangle from the mobile and if the strings should all be the same length.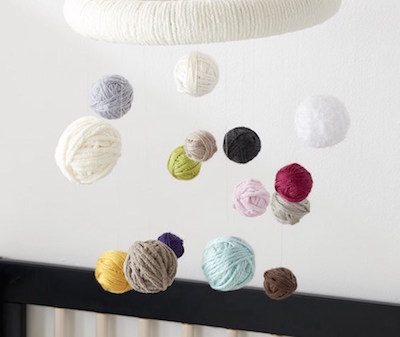 Yarn Ball Mobile
Another nursery idea using the versatile material yarn is the yarn ball mobile—it will be a soft and adorable decoration to hang over the baby's crib, and it might even encourage a love for crafting at an early age. You will need to buy lots of yarn, so that the mobile will have a variety of colour and textures — go to Yarnspirations.com/patons/ to find a wide selection of yarns for your mobile, along with any other crafts. You can also visit the website's blog to find out how to make a DIY yarn mobile for your modern nursery, and follow the careful instructions and yarn suggestions.
There are lots of other sweet crafts to use to decorate your nursery, that will be affordable, attractive and easy to make like:
knit, paper and felt garlands
a painted family tree
cut-outs paper stars for the ceiling
flowers made of coffee filters
origami creations
If you have a baby on the way, make sure your nursery is prepared and decorated before the due date. Or, if you only know someone who has a baby on the way, these are fantastic gifts to give to new parents at a baby shower. Adorable pompom rugs, enchanting yarn mobiles and other homemade creations will add instant charm to a nursery, and make it perfect for when the baby arrives.