Are you ready to impress your loved one this holiday season? Then it's time you got them the ultimate gift: a Taylor acoustic guitar. Whether they're just beginning their musical journey behind the frets or they're an accomplished strummer and plucker, a Taylor is an exceptional model of guitars that would make any guitarist smile.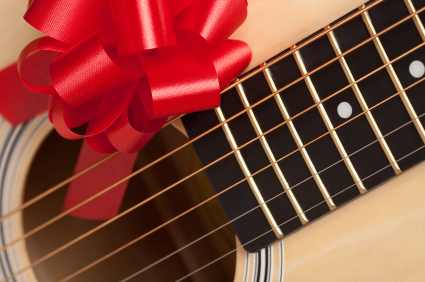 When compared to Fender, Gibson, and Epiphone, Taylor is a relatively young company only celebrating its 42nd anniversary. But what it lacks in years it makes up for in quality. The Taylor line of acoustic and semi-hollow electric guitars are some of the best on the market. Besides their overall bright, HI-FI tone, Taylor guitars are known for their innovative craftsmanship. In particular, the manufacturer has patented something called NT (or New Technology) that has revolutionized the way the guitar neck attaches to the soundboard. Whereas other companies use more than one piece in their necks, amounting to an unsupported neck past the 14th fret, Taylor makes their guitars using only one. As a result, they're able to create a straighter, more supported neck throughout the frets in every model.
The brand's notable players include Jason Mraz, Dave Matthews, and TSwift. Coincidentally, each of these artistshave their own signature Taylor series available to buy this holiday. You can find these, as well as a wide variety of their other models, at most guitar stores in Toronto as well as most cities in North America. Between their signature models and numbered series from 100 to 800, there's an acoustic guitar for every player and budget. Whether you have a cap of a few hundred dollars or no limit at all this holiday, your local music stores can help you make the right decision. The music store Toronto musicians visit themselves will have a crew of knowledgeable representatives who can talk you through each of their models to help you decide on the perfect match this season.
If you're still not sure which model to go for, visit a store with your loved one. Suggest going to pick up something simple like new strings or picks before guiding them towards the wall of acoustics. Get a model in their hands and ask subtle questions about which ones they prefer. Before you know it, they'll tell you all you need to know, unknowingly arming you with the knowledge you need to make your purchase at a later time.
They won't suspect a thing until they unwrap the very same model they were playing. Or maybe they will. Even if your afternoon out together tipped them off, the end result still amounts to the same thing. When it comes to acoustic guitars, Taylor makes dynamic, robust, and bright sounding instruments that suit any playing style. They also make guitars that fit exceptionally well underneath the tree!