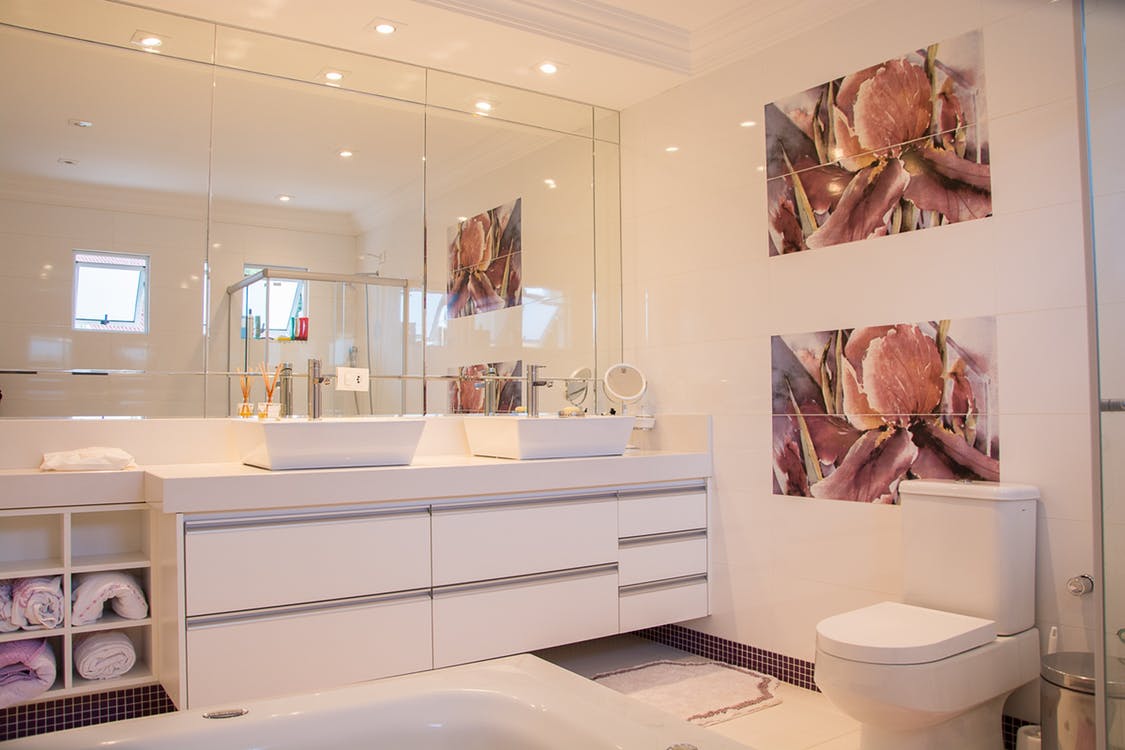 Unfortunately, the bathroom is often the area of the home that is neglected in terms of interior design. Whilst it may be a space within your home that you'll turn to when relaxing and unwinding, a small bathroom can be difficult to transform into a luxurious room when you're limited on space.
Thankfully, there are several design techniques that you can implement in your bathroom to give the illusion of the room being much bigger; some of which can be achieved through strategically placing items you may already own in different areas of the bathroom.
In this guide, we've shared five simple tips to help transform your bathroom into feeling like a much larger room that you can enjoy.
Place lighting strategically
The lighting that your bathroom uses has a huge impact on how big the space feels. This is because when light is bounced around a room, it feels much larger and can be implemented by including various forms of lighting features around the space.
For example, you could place downlights in the ceiling or light candles on the surface tops you have available. These multiple sources of lighting will create the illusion of more space.
Use hidden storage
Another simple way to make your bathroom look much larger is to use furniture items that offer a way to hide items. This will make your bathroom look less cluttered.
Items such as towels, shampoos and toothpaste can all be placed into hidden storage furniture and if you choose items that fit the existing design of your bathroom, they can offer a practical way to incorporate your storage.
Display mirrors
Many people incorporate mirrors in their bathroom to provide them with an area to check their makeup or hairstyle, but mirrors can offer your space the opportunity to look almost double the size if placed strategically!
If possible, display mirrors on walls that are directly opposite the window. This will help to bounce natural light around the room, which will also help the space to look much larger.
If you're stuck with a windowless bathroom, you can get a similar effect by placing mirrors around the areas opposite the lighting features that you have.
Use light colours
When bathrooms are smaller, it's a good idea to use lighter colours to help brighten the space. Similar to the effect that lighting has on a room, light colours will be able to give the illusion of a larger space – unlike dark, bold colours that can absorb the lighting.
Include ceiling cladding
Ceiling cladding is a fantastic way to give the appearance of a bigger bathroom as it can easily incorporate multiple techniques into one step.
For example, you could use lightly-coloured ceiling cladding panels that feature small sparkles to achieve a similar effect to mirrors. This will help to bounce light around the room and give the feeling of a more spacious room.
As you can see, there are a variety of ways that you can alter your bathroom's design to give the illusion of more space. Whether you're wanting to create an at-home spa or simply make the room look more inviting to visitors, we're sure that these techniques will help!