Is there a connection between how you look and the pay packet you take home at the end of the week?
Apparently yes! Results of a study published in the ScienceDirect clearly indicate that more attractive women make up to 20% more in wages as compared to their average-looking counterparts. Here's another factor. The study goes on to report that good grooming works very well to narrow the disparity in wages. Though, this factor may not be true for men like it is for women.
Good Grooming Can Give You That Edge – Research has Proved This
If you've been wondering why the hotter girls evoke more respect in your workplace, know that it is not just how they look but also how they take care of their looks. Andrew Penner at the Irvine's University of California and Jacyln Wong from the University of Chicago conducted research on the data they collected from over 14,000 test subjects. They found without doubt that attractive people are better liked and have higher chances of getting hired and promoted. However, simply by using good grooming, you can step into the privileged league.
What do you need to do? The answer is simple. Get a good hairdo, dress impeccably, wear makeup, and develop confidence. You may not have the genes that give you great looks and an attractive appearance, but you do have the brains. And, by taking care of yourself, you can make awesome things happen for you. As Wong found, "For women, most of the attractiveness advantage comes from being well groomed. For men, only about half of the effect of attractiveness is due to grooming."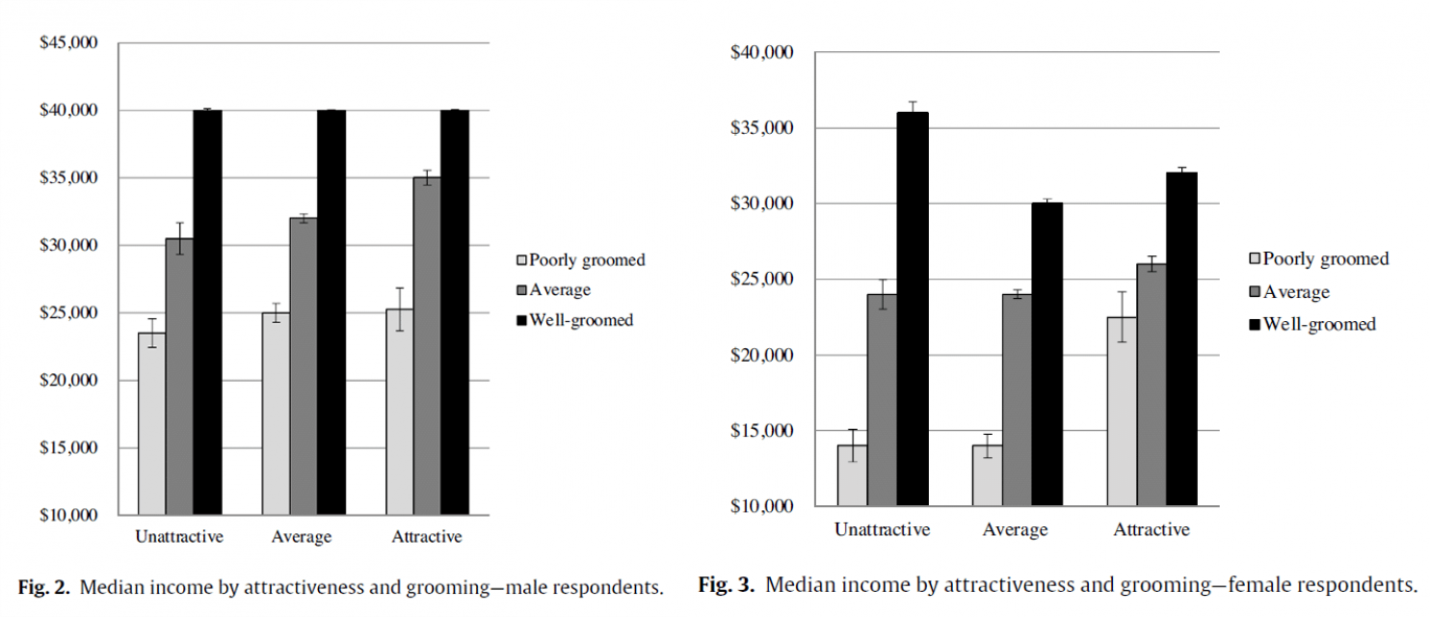 Source: Washington Post
Let's Get Started with Some Good Grooming Ideas
Remember, simply by spending an additional 90 minutes each week on your looks, you can earn up to 3.4% more in wages. That's less than 20 minutes of each work day.
Get a Great Hairdo
Great hair is absolutely essential for success in the workplace. And, for a woman, her hair is an important part of the persona she wishes to project. The hairstyle you choose must always be neatly maintained whether you've chosen a chic chignon or the no-nonsense short hair. If you feel you don't have much time to do your hair before work, keep it short and manageable. Your hair should indicate that you enjoy good grooming but you love your career too.
Get a Whole New Wardrobe
Lose weight if you need to. Next, choose smartly tailored suits that show off your figure. And, keep them maintained with regular cleaning and repair. It's okay to add a little feminine touch. A few pretty accessories that blend with the outfit work very well. Another good grooming must-have is great shoes. Scruffy, dirty, and worn out footwear take away from the smart professional persona. Wear sensible footwear that looks good but keeps you comfortable in the workplace. If you need to, keep a pair of high heels hidden away at the back of your desk drawer for that presentation.
Get New Makeup
The thing about workplace makeup is that you need to use just enough to enhance your looks and play down the negatives. Wearing makeup evokes trust and people like you unknowingly. Like President at Venmark International, Steve Stroum says, "In the same sense, a woman's personal appearance is a hidden persuader. Nobody will admit that something as trivial will impact their decision-making process… but it does." Just make sure not to overdo the paint.
Smelling great is another perfect accessory. Invest in a few good perfumes and deodorants for work.
Get a Salon Membership
Here's another essential for good grooming. Take good care of your skin. Clean, tone, moisturize, and nourish. And, lose the excess hair. Make sure to have the hair around your lips removed regularly. Tweeze your eyebrows. Preferably, get a professional to take care of it for you. Facial hair is not acceptable so take care to bleach it. You'll also need to keep those arms, legs, underarms, and all other areas clean of unwanted hair.
Of course, for the busy professional high-achiever, all it takes is a few sessions at a good salon like the center for pain-free laser hair removal in Los Angeles. And, you're sorted. Once the hair is removed, it's gone for good.
And, That's All It Takes!
While good grooming is a great positive, to succeed and get ahead in life, nothing takes the place of hard work, dedication, and ambition. It's just that working on your looks gives you that little extra.
Deborah Sweeney, CEO of MyCorporation stresses that you don't need to be a supermodel, "I think overall attractiveness does play a role in life and in business, but it is more about the package—dressing appropriately, having a great attitude, and having a strong work ethic all relate to a woman's 'appearance' and perception in the workplace. When you have the right combination, you're most likely to get a promotion and be more successful financially."