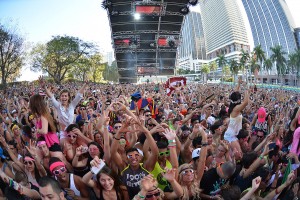 Each year the whole of Europe is filled with music festivals galore and with so many festivals offering so many genres of music and culture there is a festival for everyone's taste. The music festival is no longer simply a rite of passage for a want away teen or a gathering of hippies, today they are that and more, here are 6 European music festivals that will most certainly tickle your fancy.
Glastonbury
The Pilton farm festival has gone from being a cool little gathering for the summer solstice into arguably the most notorious music and culture festival in the world. Glastonbury offers something for everybody, whether that be the music genre you like, the type of comedy you're into, the type of performing arts you love or however it is that you have a good time, this place ticks the box. Coupled with the beautiful vibe this place has is of course the music and Glastonbury has the pull to get any musician in the world that they want, from Kanye to Beyonce, Shirley Bassey to Jay-Z, there is nobody that Glastonbury can't get. Make sure you plan for the muddy mosh by buying suitable footwear over at Footlocker and take advantage of Groupon's coupons and codes.
Glastonbury Festival takes place on the last weekend in June.
Roskilde
Roskilde music festival takes place in Roskilde, Denmark where some 130,000 people descend to enjoy 5 days of fun in Northern Europe's biggest festival. Roskilde was originally a hippy orientated fest but today it also bows it's head to current music from Rock to Pop via Hip Hop and Electronica.  Much like Glastonbury Roskilde is ran by a foundation who do incredible things for various charities; in 2014 the Foundation allowed the festival-goers to vote on which charities would receive contributions from the money made at the festival. Roskilde will unfortunately be remembered for a tragic accident that took place in 2000 when 9 attendees lost their lives during Pearl Jam's set when a crush took place but the festival have taken very strong measures in ensuring this never happens again so definitely do not be put off. On the Saturday of the festival a 'naked run' takes place around the camp site and a male and female winner is selected and given free tickets for the following year.
Roskilde takes place at the end of June/ beginning of July
Creamfields
Creamfields has built a reputation as the single biggest Dance music festival in the world, there are many festivals around the world but the franchise' biggest takes place in Daresbury, England. It only began in 1998 but today sees some 70,000 people spend 3 days camping, raving and watching the creme de la creme of the dance music world perform. Artists such as Fatboy Slim, Diplo, David Guetta, Swedish House Mafia and Faithless have all graced this stage and incited neon raves like never seen before.
Creamfields takes place on the August Bank Holiday weekend.
Benaccasim
Benacàssim festival is based in northern Spain and the location is surrounded by beautiful beaches which of course adds to the amazing sun kissed vibe of the festival. The festival does things slightly differently to it's European counterparts and bands here began playing at 5pm and finish at 8am! What better way to watch a headline act than watching the sun rise over the Mediterranean at the same time. Benacàssim offers largely rock and electronic music but has been known to dabble in other genres in the past, it also offers a lot of art and fashion shows as well as movies.
Benàcassim takes place on the 2nd week of July.
Snowbombing
European music festivals are not exclusively based in the Summertime and in fact there are many amazing music festivals all year round which offer awesome music along with snow and aprés ski fun. Snowbombing festival was started in 2000 in the Austrian ski resort of Mayrhofen as a promotional night at a night club there, it quickly grew and since 2005 the entire town plays host to thousands of people who love to ski, snowboard and party. The festival encourages good humoured fun, traditional Austrian culture and some of the hottest music in the world. Many people, especially from the UK, say no to flying to the event and instead take to the road with many others and their pit stops along the way are celebrated by many towns who encourage such 'pit stops.'
Snowbombing takes place at the beginning of April.
Secret Garden Party
Finally we have this little treasure, the Secret Garden Party was formed as a sort of anti-festival and tries to go against the mainstream culture that many other festivals have indulged in. SGP has around 15 stages and strongly celebrates all things independent, it still has big acts performing there but generally these are only the headliners. At SGP you are guaranteed a far more chilled vibe and a less expensive weekend.
SGP takes place July 21st – July 24th
Whatever music you like and whatever it is that you enjoy doing I can guarantee that there is a music festival for you.