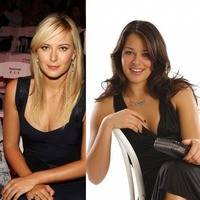 In today's world of sport we find that the sport itself often takes a back seat to the celebrity culture that now surrounds those who take part. Sportsmen and women are flooded with attention in all aspects of their lives and none more so than when we gauge how fashionable he or she is. Joe Public their fashion cues from men and women in sport as much as they do form musicians and models these days, with that in mind, here are 6 of the most fashionable sportsmen and women on the earth.
 David Beckham
Regardless of how avant garde and straight up crazy some of David Beckham's clothes choices were during his playing days, we watched in awe of the man who always appeared so at ease with style. Beckham's hair was as sought after by men as Rachael from Friends was by women and he always tried to mix it up, whether it was a mohawk, shaved head, floppy curtains or the top knot, David always stayed fresh. These days he has really upped his game, the man wears suits like he was born with them on and manages to look outstanding in a plain t-shirt and jeans. All the above proving that he is indeed a sporting fashion icon, and that's without mentioning that stubble.
Lebron James
As a multi trophy winning, MVP machine the world of basketball and celebrity watch LJ with beady eyes and so it is only fitting that he rocks a style that befits the player. Hebron hasn't always been superbly however but we can forgive the awful white suit he wore and the powder blue 'pimp' suit he rocked at the EPSY's as since then he has flipped his stye game. Heavy endorsement from Nike and proclaiming himself the 'King' meant he simply had to have the wardrobe that befit the man. These days James is the epitome of style, rocking hats braces, suits and shoes that mere mortal could never pull off. King James the baller is now also King James of style.
Tom Brady
The multiple winning NFL and Superbowl MVP has flashbulbs at him wherever he goes, and they're not just trying to catch a glimpse of one of those six Superbowl rings. Tom Brady is renowned for his stylish choice of garments and rarely has a man ever looked so good in a bow tie. Tom 'Terrific' Brady has more than enough reason to stay on top of his style, not for the paparazzi, not to raise his stock as one of the worlds best dressed, oh no, far more than that, Gisele Bündchen, Brazilian model. That's right, if you had her on your arm I'm sure you'd be ensuring your fashion choices were on point, last thing you need is her going back to Leo right. Brady is sponsored by both Under Armour sportswear and the insanely popular Ugg shoe brand, both of whom have backed a winner in the fashion race.
Ana Ivanovic
Serbian tennis star Ana Ivanovic may be top 10 in the world at her sport but she has been in the top 3 for style since gracing the court. Regardless of the event Ivanovic looks perfect, she even rocks the sweaty look which lets be honest, ain't easy. Women the world over have cooed over her 'perfect' braided ponytail when she plays and have shopped around for her style after seeing her at an event. Regardless if it's the smokey eyes, the straw hat or the perfectly fitting clutch bags she adores, men want her, and women want to be her.
Leryn Franco
Franco is a Paraguayan javelin thrower who broke onto the scene at the 2008 Olympics, not because of her javelin throwing abilities, truth be told she's not great, but for her insane beauty and grace. Fortunately for Leryn she has realised where her true talent lies and began modelling and was even a runner up in the Miss Paraguay competition. With beauty comes, fashion designers and these days everyone who is everyone wants to hang their clothes on this sexy mannequin which in return ups her style stakes to infinity.
Maria Sharapova
The Russian beauty oozes style both on and off court, with legs that appear never ending and lush blonde hair she regularly dresses to impress, and impresses. Sharopova has featured in a multitude of fashion magazines over the years including 2 centre pages of Vogue magazine, you don't get that type of exposure being a bum. Still only 28, Sharapova will inspire women young and old for years to come and we doubt she will tone down her trailblazing style any time soon.