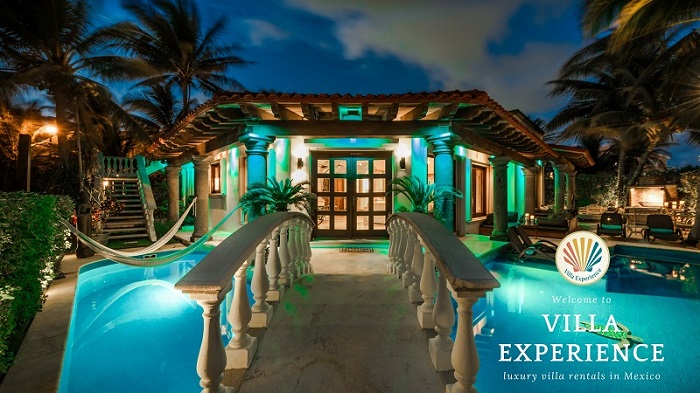 You will never forget awakening on the Riviera Maya in your king size bed, the sun rising over the crystal-blue waters or sitting on your deck off the bedroom with a cup of coffee in hand watching the waves of the Caribbean roll gently onto the beach. Nowhere is there blue water like this. Villa Experience made this personalized, luxurious vacation possible.
Riviera Maya stretches along the Caribbean coast on Mexico's northeastern Yucatán Peninsula. Here, from Playa del Carmen, Akumal, Cancun and Tulum, Villa Experience offers a wide variety of Riviera Maya vacation rentals, you will find over 364 luxury resorts, world-class restaurants, a nightlife that will entertain you until sunrise, exclusive spas, shopping centers, and some of the world's best golf courses.
Speaking of a luxurious stay, how about renting the Playa del Carmen Kite House.  Situated in the resort community of Playacar, fifty meters from the beach, you will find room for eight adults and four teenagers. Each of the four exquisite bedrooms has an en-suite bathroom, king-size bed, air-conditioning, ceiling fan, television, and telephone. Three bedrooms feature Jacuzzi and deck/terrace overlooking the pool or the gardens. From the pool terrace, kitchen, and dining room you can see the Caribbean, and from the garden terrace, you can see Mayan ruins. The dining room, kitchen, and living area look out onto the pool. You will find seclusion and privacy within the house surrounded by lush tropical vegetation.
But first breakfast. The concierge has arranged breakfast at the most fashionable restaurant. You can enjoy the international buffet restaurant with exquisite seafood, snack bar, and much more Then the concierge suggested ways to enjoy the day. He pointed out the infinity pool with views of the white sand beach and the gently stirred palm trees. There you can work on your tan and while you finish the book your friends recommended.
Nearby is another great choice, the Blue Diamond Riviera Maya, a six star all-inclusive adults-only beachfront hotel with a private 18-hole golf course where guests can play unlimited free rounds of golf.
This luxurious all-inclusive resort is close to some of the best diving spots in the world. Off the Caribbean shores lies an extensive coral reef, home to a vast variety of marine species. When you submerge in the Caribbean waters, you will find yourself surrounded by tropical fish, stingrays, and even the fascinating whale sharks. The Mayan ruins of Chichen Itza beckon from a short distance along with ecological reserves of great beauty.
When you retire after a busy day, you will stay in suites appointed with top-notch amenities such as double vanities and dressing room, private foyer, safe, sitting area, minibar, wide screen TV home theater, CD, DVD, iPod docking station, two-line telephone and wireless Internet. Blue Diamond Riviera Maya features state-of-the-art facilities and services that will exceed the highest expectations.
Not only can you choose between three pools, several restaurants, and bars with the most amazing views but you can pamper yourself in style at the resort's Spa. Water sports, complimentary Spanish and yoga lessons, beauty salon, fitness center with a personal trainer are some highlights of the extraordinary services this all-inclusive adults-only beachfront resort in Playa del Carmen has in store for you. Book you're your luxury villa now with Villa Experience for a holiday to remember.
To the south is Tulum, the area best known for eco-tourism, a natural environment to get away from large crowds. "Tulum is home to yoga retreats and the preserved ruins of an ancient Mayan port city, perched on an outcrop above a white-sand beach," writes Riviera Maya. Some say Tulum "is 130 km south and 700 years away from Cancun." Picture how impactful the history of the Mayans and the ruins can be on your imagination.
No place of beauty and relaxation exists without its staff. They are always eager to assist you with a good dose of traditional Mexican hospitality. Villa Experience Mexico has all the ingredients you need to create a personalized, luxurious vacation experience on the Mexican shores where you will be assisted by Oliver and Rocio Mendoza. They are eager to suggest places to see in their beautiful country.
Review By Mike Landfair