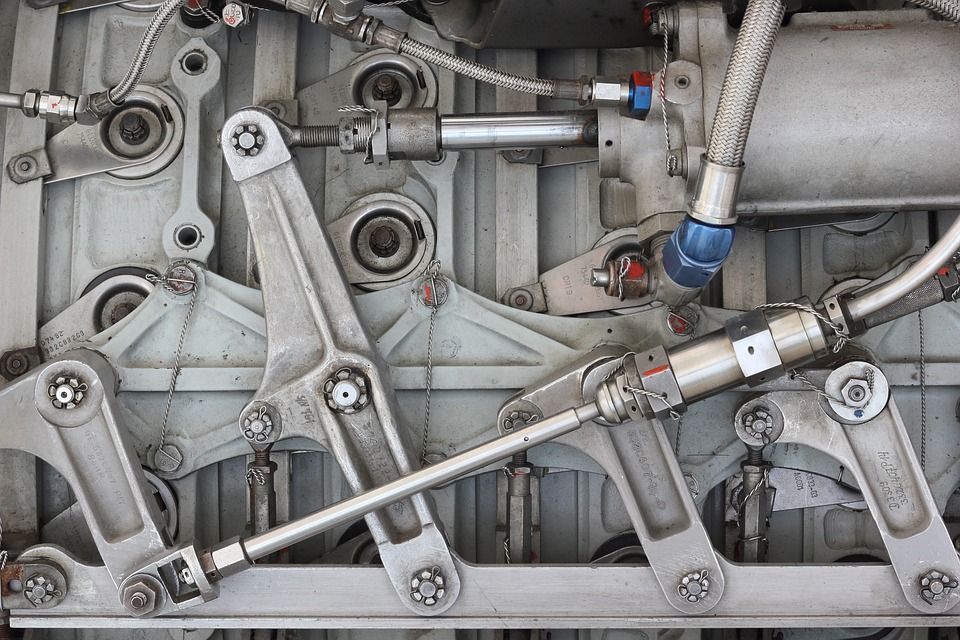 It is hard to imagine what the world would be like without hydraulic systems! They are used in everything from agricultural machines, to automated production lines and even NASA space equipment. These simple yet powerful systems have made the work of countless industries much more effective. 
The basic idea of a hydraulic system
Hydraulic systems developed from a discovery by a 17th century mathematician called Blaise Pascal. His findings are known as Pascal's law which states that in a contained fluid, a pressure change in one area will be transmitted without loss to every area of the fluid and to the walls of the container.  
To break that down: If you have a fluid in a container and you apply pressure at one end, the pressure will be transmitted to every part of the fluid. And also it will be transmitted to the other side of the container. 
Understanding Pascal's law is the key to understanding how hydraulic systems work. 
Let's look at the most basic hydraulic system to get a clear idea. We have a piston at one end, a pipe containing a fluid and another piston at the other end. If we push down on the first piston, that force will be transmitted through the fluid to the other piston. 
In reality, most hydraulic systems are more complex than this. You can change the length of the piping in between the pistons, make it go in any direction or vary its width. You can even make the piping fork so that applying force to the first piston will transmit that force to several other pistons. 
Essential components of a hydraulic system
Even though hydraulic systems come in varying levels of sophistication, all of them have the same basic components. 
The basic components of a hydraulic system are: 
A reservoir which stores the hydraulic fluid.

A pump which turns mechanical energy into hydraulic energy. The pump creates a vacuum and forces the fluid from the reservoir into the rest of the system. 

A power source which drives the pump. 

Valves which control the pressure, flow and direction of the hydraulic fluid. 

Actuators which convert the hydraulic energy into useful mechanical energy. They can create a twisting, rotation or straight line force. 

Piping to convey the fluid from one place to another in the system. 
Types of hydraulic fluids
For a hydraulic system to work effectively, it must use a fluid that is incompressible. That means the fluid should not change volume when pressure is applied. If a compressible liquid was used, it would lose much of the hydraulic power in the process, making the system ineffective. 
Another important quality of hydraulic fluids is viscosity. Viscosity indicates how resistant a liquid is to flow: the higher the viscosity, the thicker and more resistant the liquid is to flow. 
Hydraulic liquids should have the right balance: if they are too thin, the system will be less responsive and this could lead to damage. On the other hand, if hydraulic fluid has a viscosity that is too high, the mechanical efficiency of the system suffers, leading to friction and slow operation. 
There are different types of hydraulic fluid, each with their own advantages and drawbacks. 
Petroleum-based fluids are the most commonly used because they are inexpensive and provide lubrication to the system. Also, you can insert additives to make petroleum-based fluids suit a particular application. For example, additives that combat the formation of rust and oxidation.  

Water-based fluids are fire-resistant but they don't offer much lubrication. In high temperatures, they might also evaporate.

Synthetic fluids are made by humans, and they are resistant to fire while lubricating the system. They perform well in high temperatures and high pressure. However, they are expensive and can contain toxic substances.
Advantages of hydraulic systems
Why have hydraulic systems remained essentially the same for years? And why are they used so extensively throughout a great number of industries?
The advantages of hydraulic systems are: 
Ability to multiply a force. A

hydraulic system

doesn't need gears or pulleys to lift very heavy loads. Instead, they are able to multiply a small force to achieve this.

Easy to control. Using simple levers and buttons, the operator of a

hydraulic system

can easily perform the functions they need to.

Economical. Because of the simple design, hydraulic systems require relatively few moving parts. This means they are easier to maintain, and cost-effective in the long run.

Small and flexible design. A

hydraulic system

can be designed to fit in small spaces and don't take up a lot of room in a machine. 
The drawbacks associated with hydraulic systems mostly arise from poor design installation. Using oils can be messy, and if there is a leakage some hydraulic fluids can catch fire. Always make sure you use high quality products and get them installed and maintained professionally. 
Applications of hydraulic systems
When you understand the advantages of hydraulic systems, it's no surprise that they are used in countless industries. To give you an idea of just how diverse their applications are, we will go through some below. 
Cars and other vehicles: hydraulic systems are used in braking systems of cars and other vehicles. They are also used for power steering and suspension. 

Construction equipment such as forklifts, cranes and diggers all use hydraulic systems to function. With only a small force, hydraulic systems enable construction equipment to apply enormous amounts of force to lift very heavy loads.

The mechanical engineering industry uses hydraulic systems in automated production lines and conveyor belts. 

An airplane's braking system, moving flaps and landing equipment all use hydraulic systems to function.

Agricultural machines such as crop harvesters, loaders and tractors all make use of hydraulic systems.
Hydraulic supplies, installation and maintenance
Hydraulic systems remain a simple but effective solution in many industries. At Hydraulic Solutions and Sales we encourage you to only use the best hydraulic products, and ensure they are installed and maintained professionally. 
We supply, design, manufacture, install and repair all types of hydraulic equipment for hundreds of Australian businesses.  For more information about installation and maintenance services, or to start browsing our range of hydraulic supplies, visit Hydraulic Solutions or give us a call on +61 8 9437 5388.