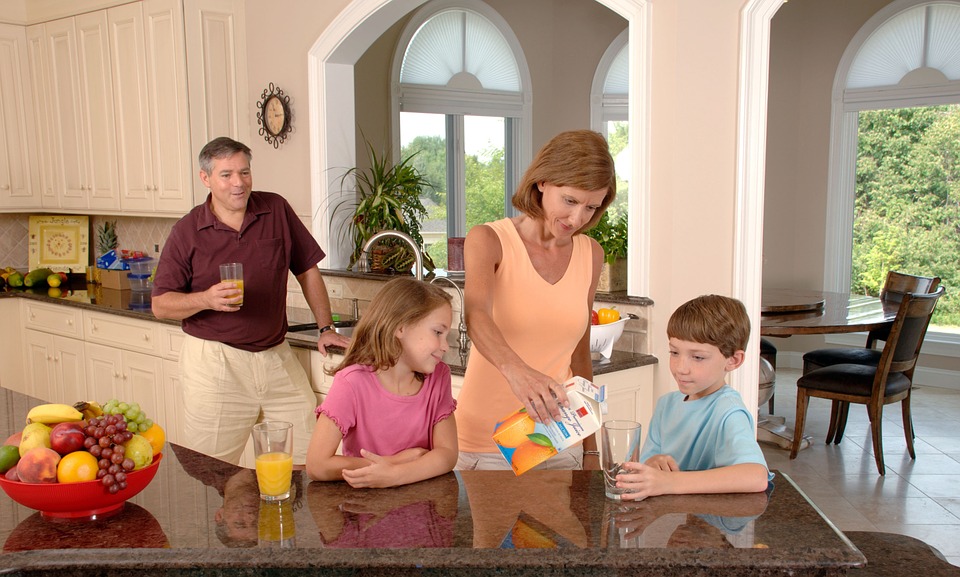 Stay at home moms make magic happen. These super moms take care of a huge chunk of child care, laundry, cleaning, cooking, nurturing, shopping … the whole shebang!
Well, let's be candid; stay-at-home moms are the best gift givers. They usually know how to pick out something that'll knock your boots off. But, what about her?
What's the perfect gift for such a selfless, ever-busy and creative soul? Stay at home moms may be hard to buy for, but they certainly would appreciate something meaningful and a gift right from your heart.
We have made a list of 8 best gift ideas for stay-at-home moms. She'd be moved to get one of these thoughtful and convenient gifts for her birthday, Mother's Day, holiday or any other occasion.
Wine Gift Set
Stay at home moms deserve all the praise in the world. They also deserve a little "downtime" once in a while with a glass of fine wine. After all, they do "everything around here."
If you are looking for a wine gift that'll tickle her fancy, look no further than The Classy Thank You gift pack by Winestyr. It's an awesome thank you gift that every mom will love.
Wrapped in a stylish gift packaging, this wine set includes 2015 Pier 8 Pinot Grigio by Rocketship Wine Co and 2016 Urgency Cabernet Sauvignon by Shannon Ridge. Both wines are sourced from US winemakers and have been individually tested by experts at Winestyr.
Massage
Taking care of everything inside and outside of the house can be quite exhausting. So, why not give her the gift of pampering, comfort, and relaxation? Massage is what her body, mind, and soul need. It combines me-time and self-care.
To make sure that she enjoys the massage thoroughly, get her a complete package, including facials, beauty regimens, and other pampering sessions. Book a babysitter or send out the kids to the movies, so that the lady of the hour can have a truly reinvigorating time at the massage parlor.
Gravity Blanket
Stay-at-home moms need more ZZZs. Between tucking in the kids and worrying about tomorrow, they barely have time to get proper shut-eye. That's why you need to get her this gravity blanket to make sure that she makes the most of every second in bed.
This unique blanket is designed to be therapeutic, velvety soft and comfy to boot. It helps increase the levels of melatonin and serotonin, two hormones that have been found to encourage better sleep. Because it is a weighted throw, this blanket can also assist in reducing the level of the stress hormone cortisol in the bloodstream.
So, after dealing with all the chaos, whining and crying all day, stay at home moms can take advantage of this blanket to fall asleep faster and stay asleep longer. You can choose from a variety of colors.
Personalized Star Map from Twinkle In Time
This a cool gift that will put a huge smile on your mom's face. Head over to twinkleintime.com to create a customized star map. All you have to do is pick a date that is very meaningful to the stay at home mom. A day she relishes and wants to remember for the rest of her life.
Stay-at-home moms get boring gifts year-round, and this star map will be the highlight of her day. It's a thoughtful unique product that will find a great spot in her bedroom wall – or, better yet, the living room.
Water Bottle
A busy stay at home mom can easily forget to hydrate properly throughout the day, which isn't good for her skin and overall health. Want to show that you truly care about her health and well-being?
One of the best ways to improve the life of a busy mom is to give her a reusable water bottle. Whether she's an outdoorsy type, a fitness lover or just want to have her beverage handy on the go, there's something perfect for her in this comprehensive list by Cool Thing Chicago.
For me, Kool8 is a no-brainer choice. It's been six months since I bought mine (blue), and I am lovin' it every day. So much so that I gave one to my mom as Mother's Day gift – and she's already raving about it.
Kool8 is the most convenient gift I ever bought. It's easy to buy, and what can go wrong with a thermos that looks super modern?
From inside out, Kool8 is made to last. I love the stainless steel construction which makes the bottle super easy to clean and maintain, something every stay at home mom will appreciate. The fact that 20% of the money I paid for it went to water charity meant the world to me and my mom.
Screen Print This Custom T-Shirt
Stay at home moms love tees and pajamas. But I bet she has plenty of pajamas. With screenprintthis.com, you can get a custom t-shirt for less than 20 bucks. When personalizing the t-shirt, make it corny, witty and perhaps include a few best mom jokes.
Essential Oil Soaps
A massage is a one-off a gift. But if you want to help her relax every day, go for essential oil soaps like this set from Sallye Ander. In the past few years, these therapeutic soaps have gained more and more traction with moms, and it is not hard to see why.
Handmade with oil olive and other essential oil blends, these soaps are great for the skin, mind and the whole body. You will be glad to know that they are animal-cruelty free, and they come in a selection of wonderful scents that will turn her bath into a tranquil oasis.
Spill-Proof Wine Glass
The stay at home mom will appreciate the thoughtfulness of these spill-proof wine glasses when they are unwinding after a chaotic day. And when the guests are around, she'll enjoy the extra peace of mind knowing that no wine will spill on her expensive rugs. These untippable glasses by Aura Glass can also be used for bourbon, whiskey, and scotch.