We are blessed to live in such a wonderful planet and have the chance to enjoy its beauties through traveling by all the available means of the state-of-the-art technology. There are thousands of more or less acknowledged places around the globe that attract guests for a number of reasons. One of them is by all means Athens, Greece. Its long history of civilization is more than enough to allure a few millions of tourists every year and that will be the case in 2020 despite the coronavirus spread and crisis.
In the following guide, which is by no means a full travel one, we are about to get some ideas about the top things to do in Athens. To be more specific, we will discuss three ways to spend a few hours or even a day full of joy and pleasure so as to go back home full of knowledge and new experiences. As you know, a journey is not all about shopping or having a cup of coffee while wandering around. It is chiefly a chance for a dive in local history and lifestyle. That is what we had in mind while incorporating the following activities in this tiny Athenian guide.
VISIT THE MUSEUM OF CYCLADIC ART
Let's set off with a historical taste. But you must be already wondering "Why visiting a Cycladic museum when in Athens"? Well, there are two main reasons to do so. First of all, you may not have had the chance to land in one of the dozens of islands of the Cycladic complex yet. If this is the case, you will have the chance to get to know them better through a guided tour in the museum.
Besides, it is not just another Cycladic museum. It is the Museum of Cycladic Art. It has been open for more than three decades now and you will see around 3,000 exhibits while walking around. Trust me, even if you are not into sculpture, photography or classical history you are will love all these tiny or bigger artefacts around you. It is like traveling back in time with a time machine.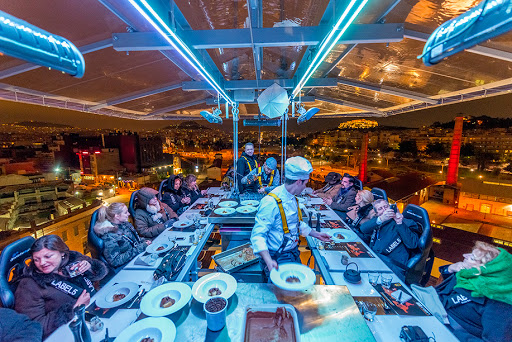 EAT OUT
Well, visiting a Mediterranean country like Greece cannot but leave you more than pleased in terms of gastronomy. It is more than widely known that local diet with extra virgin olive oil, feta cheese and super fresh mollusks guarantee delicious flavors let alone Greek hospitality going hand-in-hand with staff approachability and kindness. If you are not afraid of heights how about dining forty meters above the ground then? No, it is not a joke; it is Dinner in the Sky. The one and only restaurant in Greece which combines fine dining with stunning views of the Acropolis and the Greek capital as a whole. Haven't you booked your place then? Do it now, get strapped and fly to live an unprecedented experience!
 A DAY TRIP TO DELPHI
While in the capital of Greece you can enjoy a lot of shorter or longer day trips to places nearby. One of them could be an excursion to Delphi. It is about 2 hours away from the city center by bus, but you can always go there by your own car if you do not mind. If you choose a group trip it will take you around 10 hours in total including stopovers and the actual visit as well as the return. The oracle of Delphi was the most important one of ancient Greece and you will for sure not regret a trip there and the local ruins. Be properly prepared though especially in the summer months: you will need a hat, a pair of sunglasses and of course sunscreen!