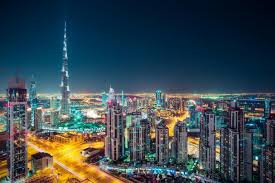 With the holiday season nearly beyond us, for many people this can be a busy and stressful time of year with presents to buy for both family and friends, and many people find themselves surrounded by very little else but snow and gloomy winter greyscale colours. Dubai is the absolutely perfect getaway for those who find themselves in this situation and that can satisfy both the need for holiday shopping and the desire for some much needed winter sun! With the shopping more than covered by one of Dubai's fabulous malls, here is a list of 3 activities that focus solely on having fun.
Dhow Cruise Delight
The perfect conclusion to virtually any day is by taking the huge luxurious dhows that ply their routes through Dubai's ever-expanding waterways and canals systems. These dhows are available for dhow cruise dinners as well, which just adds to the ambience and atmosphere of luxury. This can be a wonderful way to enjoy the glitzy Dubai cityscape from either the dhow's rooftop restaurant, exposed to refreshing, cooling evening desert winds, or from its bow, where you can enjoy live singers performing the perfect soundtrack – with jazz and pop ballads – to your gentle meandering around downtown Dubai. A gourmet multi-course meal as you wine and dine throw the dazzling Dubai streets is a pretty unforgettable experience.   

Fishing Trips

The crews and captains of these impressive, modern equipped fishing vessels are always absolute professionals when it comes to fishing. They often have a minimum of 10 years experience and will know exactly what you need to make the most of your fishing trip. Fishing trips in the UAE always takes place well away from the UAE coastline and can be customised whether you are a complete beginner or an experienced angler. The crew can help you reel in a catch and are there to help you as much as you would like. For instance, those with no experience of catching big powerful fish such as the Bluefin Tuna would be well advised to let the crew handle it. Other fish on offer include some anglers favourites such as tuna, barracuda and the more regional Sultan Ibraham. Rest assured your catch will not go to waste: You can get the crew to BBQ it at the end of the day or make plans for your hotel's kitchen to cook it to your liking in advance.

Luxury Tours

For a break from the city's shopping malls, a luxury tour in Dubai or outside the city and beyond can be the perfect release. Tours are offered to a number of locations, however desert safaris and trips to the spectacular oasis town of Al Ain – with it's natural swimming pools and hot springs – on the border with Oman can be a great way to leave the bright city lights behind. Generally the desert safari tours combine either a camel riding or land cruiser ride through the desert with a Bedouin camp in the evening that will give you the chance to absorb some of their genuine culture through entertainment such as belly dancing and a rich, delicious traditional Bedouin BBQ meal. In addition to this is the opportunity to take a cruise to the natural wonder of the modern world, Palm Island, which is one of the largest man-made islands in the world.

So if you want to combine a winter-sun getaway for yourself while getting the holiday shopping out of the way, Dubai is the ideal destination.