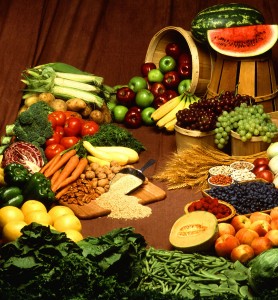 Rarely a day should go by where we are not blown away by Mother Nature's capability to provide, whether it be building materials, medicines or amazing food, she always knows best. When it comes to the food we eat, far too often to we ignore nature's produce and opt instead for mass produced, additive filled crap. We do this for 'convenience' and because many of us are simply victims of large companies keeping their costs down and selling us a fake 'dream' of nutrition. Fortunately, we live in an increasingly aware world and the rise of the superfood has been a joy to watch. I've put together a little list of superfoods that you should add to your diet if you haven't already, eat these and improve your health whilst satisfying the Mother.
Spirulina
This little legend was is a great source of protein, vitamins and all amino acids, it is used as a dietary supplement and  a body boosting wholefood. Spiralling has the capacity to boost your immune system, aid in controlling blood pressure and cholestrol. Also known as blue-green algae, Spirulina comes from warm fresh water and was even used centuries ago by the Aztecs and Mayas as a source of vegetable nutrition. Spiralling is easily available and can be bought in tablet, powder and flake form.
Quinoa
Considered one of the healthiest grains in the world, Quinoa is harvested in the Andean regions of Peru, Bolivia, and Ecuador. In recent years the demand for this grain has almost exceeded supply as the world attempts to get it's hands on a wheat free grain that contains all 9 amino acids and provides a wide range of anti-inflammatory nutrients that can help with weight gain. Coupled with this Quinoa provides an array of heart-healthy fats that put the grain above it's cereal grass counterparts. Above all of this Quinoa tastes great and is can be prepared in hundreds of different ways and, such is it's absorbent nature, the grain holds flavours fantastically well. If you haven't hit the Quina button yet, I suggest you do, and soon.
Goji Berries
Discovered, at least by the consumer based modern world, in Northern China in the early 21st Century, the Goji or Wolfberry quickly became a celebrities' must-have superfood. The berries themselves have been used in Chinese medicine for centuries and, despite not being officially confirmed, the berry has a vast array of healing properties. What makes the Goji special is that it is widely considered to be the most nutritionally dense fruit on the planet and contains more protein than any other fruit. Along with the high protein content, the Goji has a huge amount of Vitamin C and possesses anti-fungal, anti-inflammatory and immune system boosting Polysaccharides. Usually purchased in a dried form, the Goji is great as a snack or added to breakfast cereals.
Kale
This wonder plant should most definitely be in your diet, eaten 2-3 times a week Kale offers cholesterol lowering benefits, high Vitamin K, A and C intake and the brain developing B vitamin, Folate. The greatest success of kale is that it offers nutrients that can actually reduce the risk of 5 cancers and, like many green and leafy veg, is incredibly high in anti-oxidants and even has anti-depressant effects. Kale can easily be added to any meal and steaming is the best way to cook it whilst ensuring it maintains all of those wonderful benefits.
Sweet Potatoes
Sweet Potatoes or Yams are absolutely packed with vitamins including high doses of C and A and they are a great source of Vitamin D, very helpful if you live in a relatively sun-less area. The sweet potato doesn't stop there, it also offers great values of Magnesium (anti-stress benefits,) Potassium ( regulate the heartbeat) and Iron ( great for the blood and immune system.) Sweet potatoes are far lower in fat and carbs than their white counterparts and offer up higher levels of vitamins, they are equally as versatile and taste absolutely beautiful giving you no reason at all not to add them to your diet ASAP.
Acaí
The Acaí berry has long been touted as one of the healthiest berries out there, packed with anti-oxidants such as ellagic acid which has immune system boosting properties. The berries themselves come from Brazil where they are considered a great combatant to the anti-ageing process due the high amounts of phytochemicals which aid in halting damage from oxidative damage. A single Acai berry contains 10 times the amount of anti-oxidants as grapes and given that they taste amazing too, especially juiced, you should add them to your shopping basket with haste.
Chia Seeds
Another superfood that was used by Mayas and Aztecs is the Chia seed, high in nutrition, low in calories and a whole host of benefits is why this little beauty is so popular the world over. Chia is the Mayan word for strength and it's nutritional properties prove why, Chia is naturally high in protein, nearly all the carbs it has are fibre and they are super high in vital Omega-3 fatty acids. Chia seeds have been known to aid in exercise as well when consumed pre-workout and they also have properties that aid in the treatment and prevention of Type- 2 Diabetes. The seeds are incredibly easy to consume, simply add them to a drink, cereals or pop them in a sauce or with your rice, relatively tasteless and nutritionally boosting, a great combination.