The Exumas are known for being this charismatic place where you are always welcomed in. Why shouldn't it be? It is part of Bahama tradition of traveling where every traveler is made to feel welcome equally. However, this also means that a lot of the beaches at the Exumas get very crowded, very quickly. Depending on the type of vacation you are looking for, this might prove to be a huge annoyance.
So, what is a traveler to do? Well, for one Exuma is home to some of the most pristine beaches in the world where you can have the whole beach to yourself. And on the other hand, booking Exuma vacations rentals is a walk in the park thanks to the new technology. So, with this news in your hands, let's explore the beaches in Exuma where you can let your hair down, without anyone watching.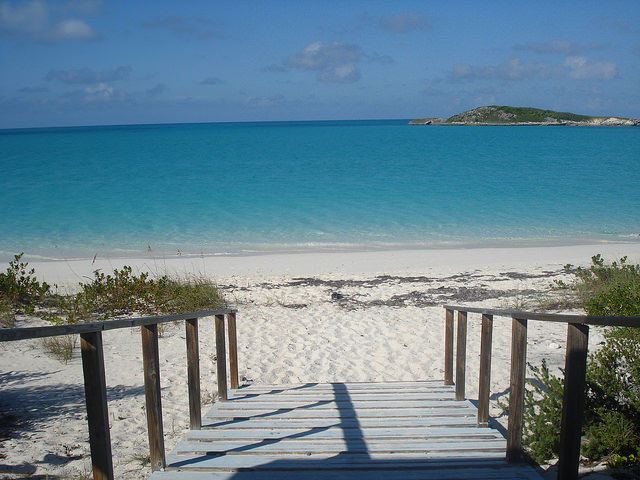 1. Tropic of Cancer beach
Named for the latitude that passes through it, The Tropic of Cancer beach is a heaven for people looking for some solitude. The beach stretches on forever and has some shallows that will let you sit in the water for hours at a time just playing with the fishes.
Getting here is quite tricky, and it is recommended that you ask the locals for direction once you get there. However, once you reach the beach, you can almost always find a huge section just for yourself. The cold water laps up and brings fishes which have no fear of approaching humans, and many spots are perfect for a lazy afternoon swim. Tired of swimming? Set up an umbrella by the beach and read away. With very few people around, you would have little that would disturb your time.
2. Three Sisters Beach
While, it might be a long drive from George Town this beach, nestled in between a busy street of Exuma is one of the quietest places we have found. You can sit around and see the waves crashing into the sea, or don an explorer's hat to see the vegetation all around you. One of the best parts of this place is the fact that you can easily find sites which are completely untouched, so, you may see this beach to be empty even during the tourist seasons.
Go sit down in the sand and enjoy the waves splashing about, or go for a swim. Be careful; this is one of the only beaches in Exuma where the waves are a bit on the harsh side. So, if you are not an experienced swimmer, you might want to give the swim a miss. However, you cannot afford to miss the joy of having a picnic basket all to yourself in the sand as the sun sets, it is a beautiful sight to behold.
Since the beach is quite close to the road; you would have no problem is setting off to your vacation rental afterward
3. Hamburger Beach
A little bit of cheating here. Hamburger's beach is not exactly the most secluded beach on the Exuma. However, it offers a beauty of a different kind. Ever fantasized about eating a big bowl of Conch salad while you stare out into the brilliant blue expanse of the seas. With Dora's right about the corner you can enjoy that at the Hamburger Beach. Go ahead, take a bite of their beautifully made hamburgers and food and walk right out to their patio to enjoy the view of the sea that stretches before you.
What's more, the staff here is very courteous and would help you in every step along the way. Let's face it, we've all wanted a chill beer to go with our sea escapades, and here, you can have that and more along with a healthy dose of hospitality.
Do not forget to share Pistol with the chef at work, and enjoy yourself as the waves crash right before you.
4. Ho Tai and Pirate's Beach
The Stanley Cay might be the most famous Cay in the Exumas with their weekly Chat N Chill. However, on the other hand, they hold two very unexplored gems in the Ho Tai and Pirate's Beaches. Pirate's Beach, just as it sounds is excellent for swimming. It has deep waters and the perfect atmosphere for you to laze around all day. Even on busy days, you would be hard-pressed to find a beach that is less crowded, which is something to admire really.
However, it is the Ho Tai beach that is our personal favorite. It starts out being an adventure in itself since, finding it is tough. However, once you figure out how to get there, Ho Tai Beach is an explorer's dream. It has everything a person might want in a beach. Several areas where you can float in the water for hours, and many shallow areas for you to explore for conch shells and sea life.
5. Shroud Cay
Shroud Cay is a small stretch of island owned by the Exuma Parks. Therefore, it stands protected from any trash. If you are taking a Water Taxi to here, remember to clean up after you. The beach at Shroud Cay is a revelation in itself. The beautiful white beach stretches out for a long distance and is almost always empty.
Remember to carry some bug spray if you plan to explore the nearby mangrove vegetation or see the whole area. However, our advice is to just lay around on the beach and enjoy the weather all around you. Some of the sceneries from the nearby peak (a hard trail to follow, but, worth it), are probably the best things you can see in all of Exuma too, so, if you are looking for an adventure and some solitude together, this is the place to be at.