Working from home can seem appealing for all manner of reasons, including working to your own schedule and being able to decorate your office space exactly as you want it. Hence, over half of employees in New Zealand currently have flexible work hours. However, during busy periods, it's easy to let organisation slide, which makes simple day-to-day tasks in your home office take a lot more time than they should do.
In today's post, therefore, the forex experts at Learn to Trade will discuss some hacks to optimise your home office so that you can maximise productivity and efficiency whatever your occupation. From decluttering the space to decorating the walls and creating 'zones', with our tips, your office will be primed for an innovative efficiency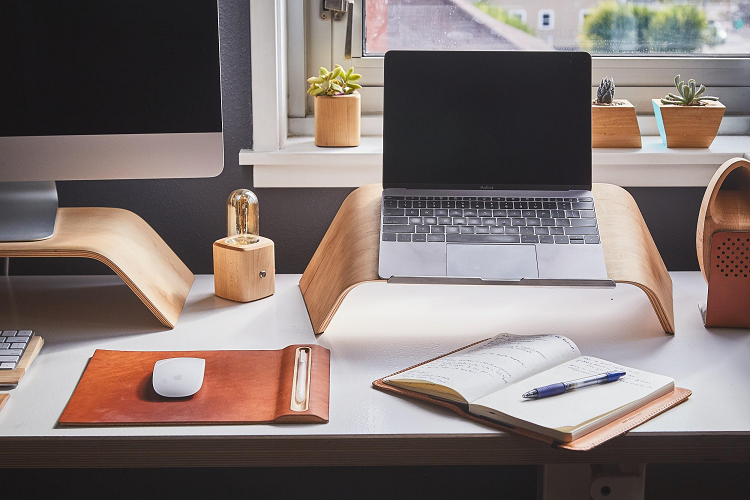 Photo by Grovemade on Unsplash
Declutter your space
Whether you're a stay-at-home professional trader or own your own business, it's likely that you'll be equipped with years of commitment and experience backed up by clearly-defined strategies in a trading journal or business portfolio. As a trader, for example, It's essential that all notes and records are organised efficiently, so that you can find past approaches to inform future decisions. As such, an organised workspace is essential.
It could be as simple as taking an hour out of your day to sort everything that you don't require on a day-to-day basis, shredding or simply getting rid of anything that you don't want or need. From there, all you'll need to do is assign a place for everything to be stored in your office – whether that's on shelving or in neatly stored and organised boxes.
Working from home often means that you'll need to store a wealth of information, so rather than shredding every piece of paper irrationally, consider whether you may need it in the future – finding a suitable storage solution so that you know exactly where it is if so. From ringbinder files to paper organisers, there's an organisational remedy for every office. While you might think that you don't have the time for office organisation, disorganisation can cost you time that you don't have in the future, creating negative consequences for your business as a result.
Decorate the walls
Some of the best benefits about working from home are that you're given total freedom to work wherever you feel most productive and can do exactly as you wish with your workspace to make it align with your day-to-day requirements and, subsequently, boost the quality of your work.
Whether you'd rather display photos of your family or motivational quotes to ensure that you stay on track, working from home offers the freedom to transform your office into a space that's designed with your productivity at the forefront.
As a trader, for example, it could be efficient to incorporate a whiteboard or chalkboard into your design so you can jot down any ideas you may have, or plan any future trades in a place that's a little more refreshing than on your desk space.
Alternatively, if your business is likely to be impacted by national events, keeping a calendar of anything that may impact your strategies is an efficient way to ensure that you're always on the ball. To do this, either invest in a wall calendar or a large noticeboard which notes everything that you may require. By immersing your office in all things related to your business, it will become a haven aligned with your productivity and efficiency from the point of entry.
Create working 'zones'
Defining each area of your office in accordance with different activities is a great way to ensure that you're always on task. It's likely that you'll require a main workspace which houses everything you'll need for your day-to-day working schedule, without any distractions.
Experienced business owners are likely to understand how often you'll need to look at your notes to refresh yourself on what to do in a situation, or perhaps turn a past failure into a success. Creating a reference area is a great way to house everything that you may require. From filing cabinets to shelves and textbooks, this area should be your 'go to' in the face of a sticky situation.
Finally, allocate a 'supply area' – which may comprise of a closet, shelves or drawers – for things that you may not require on a day-to-day basis, but should still be kept in close proximity should you need them. In this area, you could place everything from books which you purchased at the beginning of your career to notes which you may have collected from various meetings.
Photo by Radu Marcusu on Unsplash
While the home office has advantages and disadvantages just like any other workplace, we hope that with our tips, you'll experience less hesitation or procrastination and, instead, enjoy being more productive and focused.
Author bio:
John James is a content writer for Learn To Trade, the foreign exchange education and learning specialists – offering a range of training courses to help people understand the currency trading market, as well as its opportunities and risks.