Whatever type of business it is, it is done for profit and it involves payment. Every time you sell or buy, it involves payment. Payment is usually done in cash in the old days and it is still being done today. Today's world is no longer a safe place to carry large amount of cash around with you. Even ordinary people try not to carry much cash with them for fear of being robbed. Instead of carrying large amount of cash, many are carrying credit card, debit cards, etc. with them.
I once received a video from a friend showing shoppers buying vegetables and fruits from the wet market in China. Every vendor has a code number on a big card displayed at the stall for customers to scan to make cashless payment for whatever they have bought. I have not been to China so I don't know whether this is true or not. But I think this will become a possibility in the near future when we don't even need to carry cash or payment cards anymore. We just need to carry our smartphone with the necessary payment apps installed to make cashless payment wherever we go. A day will come when everyone must have a smartphone to make any type of purchase.
Right now, many businesses are using point of sale terminal to do business. It is a type of electronic-transaction system that includes a computer, a cash register, other components and software to sell goods or services. It is also used to transmit sales data to customers' accounts.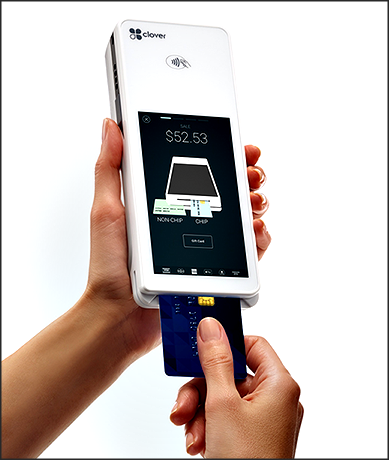 If you are running a restaurant, food and beverages outlet, etc. you will enjoy the flexibility of using the Mobile Clover Flex POS device.  The device enables you to check out customers waiting in-line at your restaurant or at the counter of your store.
The portable sized device let you take orders, process a transaction, print the receipt, get the customer's signature and can even adjust a tip right on the spot. The device has a 5 inch touch screen display to view options and capture signatures with a built-in camera and code scanner. If you are already using a Clover hardware, you can check out with MerchantAccountSolutions.com on how to use a Clover Flex device to work alongside your existing device.