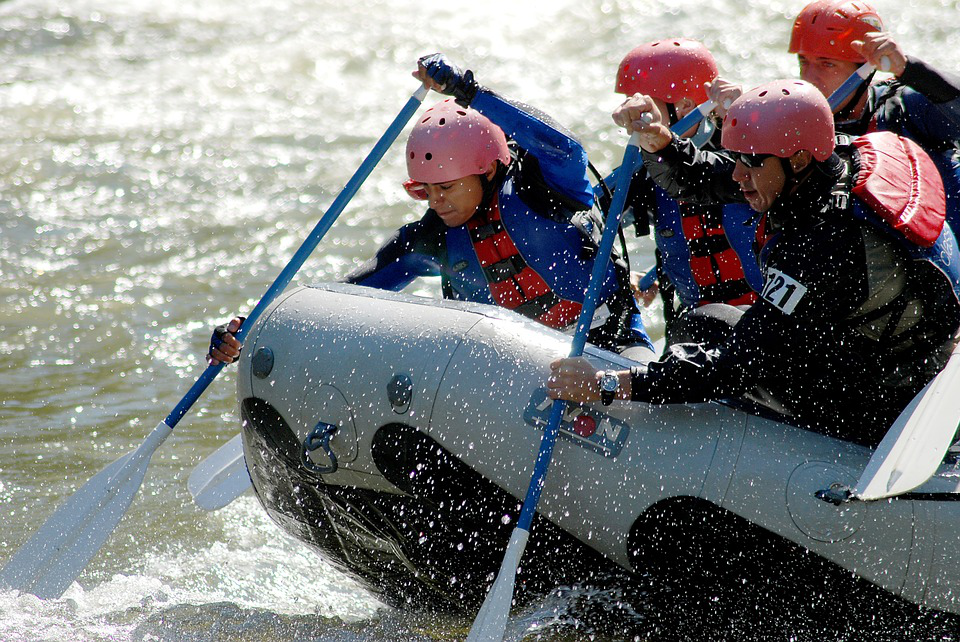 Don't let your vacation be boring, instead check out this list of 15 thrill seeking activities that you can book and feed your inner need for adrenaline!
Not everyone is looking for a vacation where you lounge on the beach drinking cocktails with umbrellas and fall asleep by 8 pm. If you're a thrill seeker or just someone who doesn't want another boring vacation, look no further.
There are hundreds of thrill seeking activities that you can add to your vacation activities list for your next holiday. We've compiled 15 of the craziest, adrenaline-filled activities that you can do on your next trip.
1. Ski or Snowboard a Double Black Diamond
If you want an adventurous ski vacation, skip the bunny hill. Whether you're in the Rockies of the Western United States or the French Alps, you can find some intense double black diamond runs that will have you hurtling down what looks like a 90-degree slope.
Want even more adventure? Try heli-skiing. A helicopter will fly you to an otherwise inaccessible part of the mountain. You'll have access to fresh powder and untouched trailed all the way down.
Sure, you could get caught in an avalanche or run into some cliffs. But that's part of the fun, isn't it?
2. Take a Dive in a Shark Cage
What extreme bucket list is complete without wanting to take a dive with one of the beasts of the deep? Many locations throughout the world offer shark dives and shark cage tours where you can get up close and personal with sharks.
Austrailia, South Africa, and California are great places to encounter Great Whites that can be up to 20 feet in length and weigh up to 5,000 pounds of pure muscle and teeth.
3. Sharks Old News? Try a Crocodile Cage
Maybe you think that shark cage dives are too mainstream now. If that's the case, you can always go for a crocodile cage. This might be simultaneously one of the most daring things to do and one of the stupidest things to do, depending on your perspective.
This experience, appropriately titled the Cage of Death, is only offered in Darwin, Australia. You'll be in a glass cylinder that is lowered into an enclosure filled with enormous 16-foot long crocodiles that are fed directly before you enter their territory.
These crocs have jaws that could probably swallow you whole.
Maybe skip telling your mom about this.
4. Go Skydiving
No matter where you're on vacation, there's a place where you can skydive. Skydiving is by no means a unique adventure, but it's a classic adrenaline-booster you can count on.
It's not surprising that flying up thousands of feet and plummeting towards the ground with only a parachute to keep you from certain death is one of the most thrilling things to do on vacation, is it? To keep things extra interesting, you can skydive in amazingly beautiful places, like Dubai, Hawaii, or even Mount Everest.
5. Try the World's Scariest Rollercoasters
Not all thrill seekers want to do things in the great outdoors: if that sounds like you, you can try out the world's scariest rollercoasters for a fantastic thrill-seeking adventure.
The Takabisha rollercoaster at the Japanese theme park Fuji-Q is the steepest roller coaster in the world with a 121-degree drop (a.k.a steeper than a straight vertical drop).
The U.S is home to a number of terrifying coasters including the Kingda Ka (tallest coaster on Earth, 128 mph, includes upside-down portion), the Bizzaro (fog and dark tunnels disorient riders and you feel exposed from cart set-up), and the X2 (you spin and are in inverted seats that allow you to fly through the air as you're launched upside-down and right-side-up along banks and 215 ft drops at almost 80 mph).
6. Climb a Mountain
Compared to croc cages and heli-skiing, this might seem tame. But depending on what mountain you climb, you could be crossing something off your extreme vacation bucket list.
While Everest is probably the most famous climb you can attempt, it isn't the most dangerous. Many consider K2, one of Everest's neighbors, to be significantly harder and more dangerous despite its smaller height.
Between storms, brutal cold, and avalanches, you might need a vacation after an epic mountain climbing vacation.
7. Whitewater Rafting
Powerful and crazy rapids that can pull you under and destroy boats in a heartbeat is the next adventure on our list. From Class 1 (the easy stuff) to insane class 6 (deemed "unrunnable") you can get your fill of adrenaline from rafting down these waters.
Try the class 5 rapids for the max amount of spinning, crashing, splashing, waterfalls, and large crazy waves. You can find this type of adventure all over the world, so there's no excuse not to try it out.
8. Try Paragliding
Strap yourself to a huge parachute (also called a paraglider) and fly through the air free as a bird. In this case, you'll want to look down even when you're hundreds of feet in the air.
You can see beautiful landscapes, mountains, and ocean views high up in the sky with this thrill-seeking adventure.
9. Zipline Through the Rainforest
Sure, a hike through the rainforest is great. But wouldn't you rather be attached to a harness and cable speeding through the treetops? You'll be high above the ground and get the full view of the rainforest.
10. Gorge Swing
Swingsets lost their thrill at age 7. A gorge swing will bring back that child-like thrill by swinging you through a huge gorge.
While the free-fall will only be seconds long, you'll literally be launched off a cliff and swing downwards at over 100 mph. Many areas worldwide offer this crazy swing adventure, but one of the most famous is the Victoria Falls gorge swing in Zambia.
11. Snorkel in the Great Barrier Reef
The Great Barrier Reef is the most famous coral reef in the world. With 1430 miles of reef to explore, you should shop online for some snorkel gear and get to exploring ASAP.
You'll see over 600 types of coral, 100 species of jellyfish, over 1500 types of exotic fish, and various types of sharks and stingrays.
12. BASE Jumping
If you liked skydiving and the gorge swing, the next most adventurous thing to add to your thrill-seeking vacation is base jumping.
Considered one of the world's most dangerous sports, BASE jumping involves jumping off of high places like bridges, towers, or mountains without any ropes or wires. You'll rely solely on your parachute and good timing.
In most places, BASE jumping is illegal; search out some legal BASE jumping sites like Navagio Beach in Greece or Angel Falls in Venezuela.
Or, if you're feeling extra daring, try some illegal BASE jumping spots like El Capitan in Yosemite or the Troll Wall in Norway.
13. Take a Storm Chasing Tour
Most sane people hear about a potential tornado and run in the opposite direction. But if you're looking for adventurous things to do, why not chase after a dangerous swirling wind monster?
Tornado Alley of the Midwest United States is home to the majority of the world's tornados. You can get in a car with storm experts and get up close and personal with these monster storms that can produce hail the size of grapefruits and destroy entire towns with wind speeds over 250 mph.
14. Ride Down a Volcano
Surfing the waves is one thing, but surfing down the side of an active volcano is another.
You'll trek up the side of the volcano with a wooden board strapped to your back (yes, it is a wooden board. And an active volcano. Think about that). Once you make it to the "drop zone," you'll decide whether you're going to ride your board like a surfer, or sled down the volcano on your butt.
Either way, you'll feel the heat from the volcano as you rocket down at 30 mph. You'll need to be protected with goggles and a suit as volcanic rocks and pebbles that are sharp like knives can fly up and seriously hurt you.
15. Zero Gravity Flight
Ever wanted to know what it's like to be in space with zero gravity? You don't have to wonder if you take a zero-gravity flight.
You'll be loaded up in a special airplane that will take you up to about 24,000 feet. Then, the pilot will pull a tricky maneuver that will make you feel about 20 seconds of complete weightlessness.
The physics behind this is pretty interesting, but you're most likely interested in the fact that you'll literally be flying as though you're an astronaut in space.
Try These Thrill Seeking Activities on Your Next Vacation
Thrill seekers and adrenaline junkies will never run out of adventurous things to do around the world. Whether you stay in your own country or want to travel to the other side of the world, you can find something crazy to cross off your extreme bucket list.
Doing any one of these things will give you the vacation of a lifetime. How many of these thrill seeking activities do you want to check off your bucket list? Let us know with a comment or contact us and let us know if you try one of these activities! After all your thrill seeking activities, be sure to take a relaxing break and recover on a Cozumel all inclusive vacation or Thai beach holiday.