The way the travel industry markets itself has dramatically changed in recent years. An industry which used to rely solely on advertising in newspapers, magazines and television to reach their target audience, has changed their strategy to keep up with the times. Now the travel industry offers more personalised marketing methods, such as loyalty programmes, and these customised experiences alongside new technologies have driven additional bookings, return visits and sales.
While the product they are marketing might be different from your own, as a marketer, you can learn a lot from how the travel industry has developed their marketing strategy. To successfully market your business or product, here are six useful tips you can learn from the travel industry.
You need to be online
The travel industry used to rely on more 'traditional' marketing methods, using magazine and television advertising hoping to appeal to holiday consumers. These days if consumers are looking to book a flight or a hotel they usually do it through a website. Hardly anyone calls a travel agent any more it's all online. Even when it comes to researching the city they're travelling to, many tourists will rely on sites like TripAdvisor for advice on where to visit and local attractions and it's no different for decisions and purchases.
Use social media influence
Customers will often search for the most influential and credible sources to find their information and are likely to trust this information over websites with no influence. For example, when looking for holidays, travellers are more likely to turn to websites such as Expedia to answer their questions, as they are likely to provide consumers with peace of mind that they're getting valuable and reliable information. Marketers need to ensure that their products and relevant information is available for consumers searching on those sites.
Social media networks can also be a great tool for influencing consumers' perception your brand. Sites such as Facebook, Twitter, Pinterest and Instagram are more than just platforms where consumers hang out, they're also indicators of how consumers interact within their networks. Potential customers tend to ignore recurring promotional emails, but are likely to be open to hearing news through companies' social media accounts and even shares or retweets from their peers.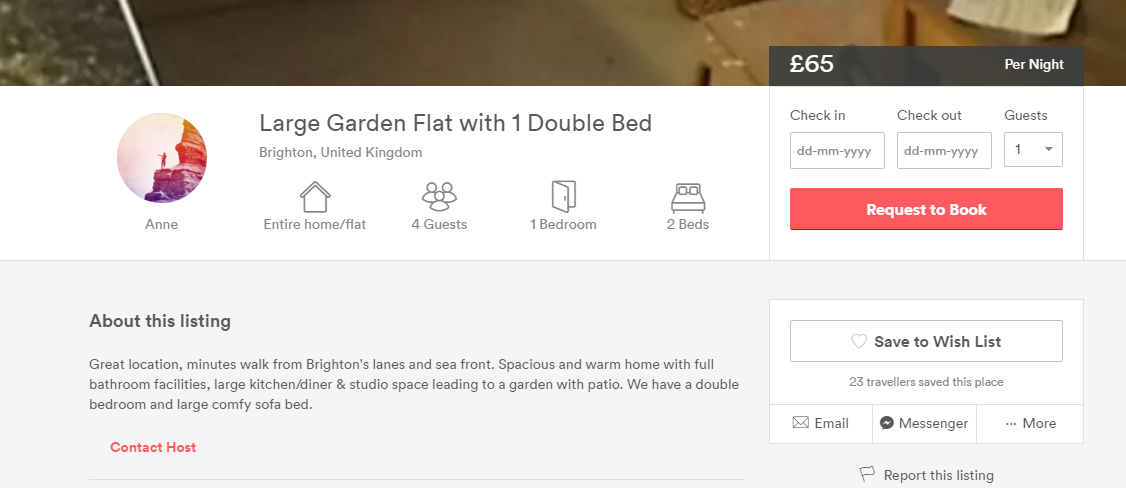 Marketers should learn from the travel industry how to market to their consumer audience. A great example of this is Airbnb, who relies heavily on its Facebook integration. It allows customers to sign in via Facebook, hosts tend to promote their listings through this platform and customers have the ability to share properties they like through Facebook Messenger.
Understand the consumers' path to purchase
Travel companies, particularly those online, understand their customers' search patterns. The majority of today's travellers use multiple mobile devices and so the best travel sites should be creating seamless experiences for users to switch from laptops, to mobile phones and to tablets to ensure they keep their customers online. For example, Airbnb let you exchange messages with your host through email, the mobile app, or even text message. This allows you to effortlessly communicate and book your holiday, regardless of the device you are using.
How consumers book their holidays has been transformed by mobile. More and more customers are turning to their mobile phones and tablets to browse, research and book holidays in a similar way to the PC or desktop, but mobile is infinitely more accessible. According to Mediahawk's UK holiday planning and booking trends report, purchases via mobile will account for 40% of sales in 2019.
While the consumer wants businesses to be part of their experience, they want this to happen on their terms. The most successful marketers will be those who excel at communicating to the consumer using the appropriate device at the right time, right place and right channel: you need to ensure that your website can be easily accessed across different channels and devices. Focus on the customer experience and concentrate on the relevant points of big data (What does this section actually mean?) to demonstrate to your customers that you are looking out for the consumer-specific best interests. Regardless of your industry, understanding your consumers' path to purchase, and providing a multi-device strategy, will help to inform your marketing strategy.
Embrace word of mouth
When travelling, consumers often look for reviews online for where to stay, places to visit and restaurants to eat at. Online reviews can have a major influence on how consumers plan their trips. When you're venturing into unfamiliar territory it's always reassuring to hear from others who've been there before and the same goes for B2B businesses.
A recent survey from Business 2 Community proves that word of mouth referrals are the most effective source of leads for businesses. Whether consumers are researching a development company or a hotel to stay at, the best place to find answers is with people who know first-hand what it's like to experience them, and marketers should do everything they can to generate more user-generated content and customer testimonials.
Be Visual
Consumers like to buy products from companies where they can clearly tell what the product is, after all who's going to want to buy something from you if they can't clearly tell what it is they're buying? This is something else the travel industry do well: displaying beautiful destinations from around the globe with clear photographs on their websites and social channels. It's proven to work well for them and is a key part of their marketing strategy, especially when persuading people to travel halfway around the world to see something unique, giving them visual evidence of what they're going to see is crucial.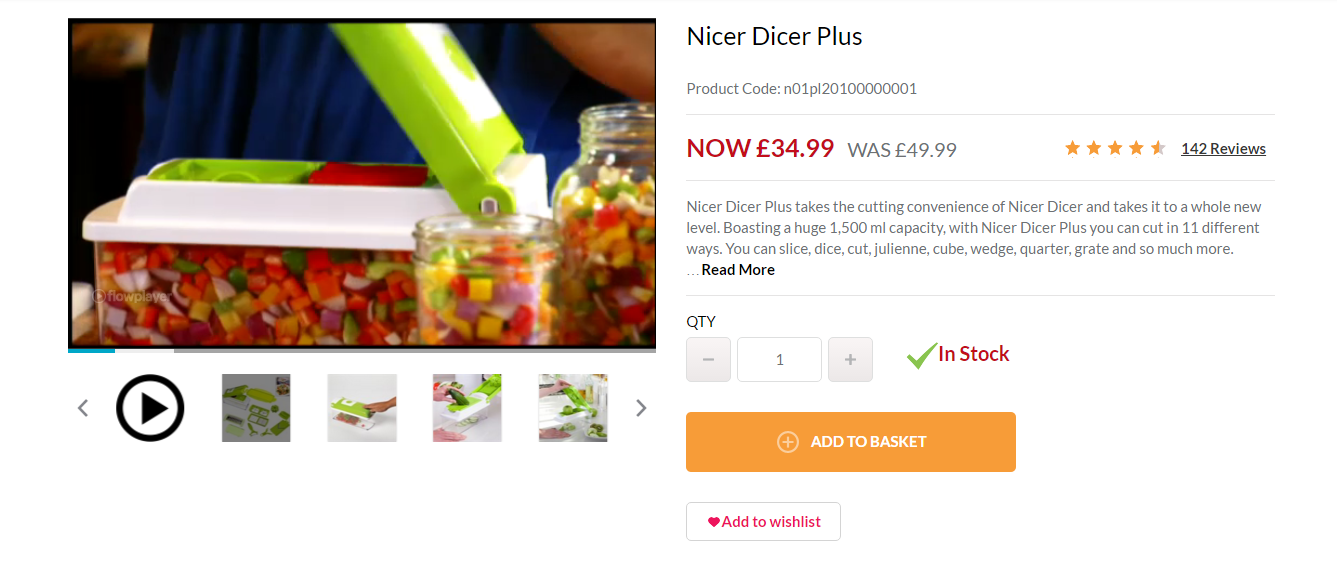 Other businesses are learning from the travel industry on providing clear images and how they work. For example, the image above is taken from JML, using several large images of their Nicer Dicer Plus. Not only are there several colourful photos showing how to use the product, but there's also a video where consumers can see how it works. This is something that would help to convince consumers to purchase, as they can clearly what they would be getting for their money.
Other marketers can use this tool to their advantage; display a diagram that's easy for your customers to understand how your product has been put together and include images of all of the important parts: don't be afraid to also include video footage of how the product works. Your customers want to know what they're going to be spending their money on and there's nothing more convincing than clear, high-quality pictures and an instructional video to accompany your product information.
Offer something unique
Something important that marketers should learn from the travel industry is how to demonstrate that they are offering something unique to their customers. Many travellers visit hotels because they can offer them something different. Whether that's a two minute walk to the beach, a famous dish served in their restaurant, or the hotels rooms, travellers will have picked that hotel for a reason. As a marketer, you want to ensure that whatever you offer to your customers you make it unique. When you have something that that guests love and can't find elsewhere, they will want to come back over and over again.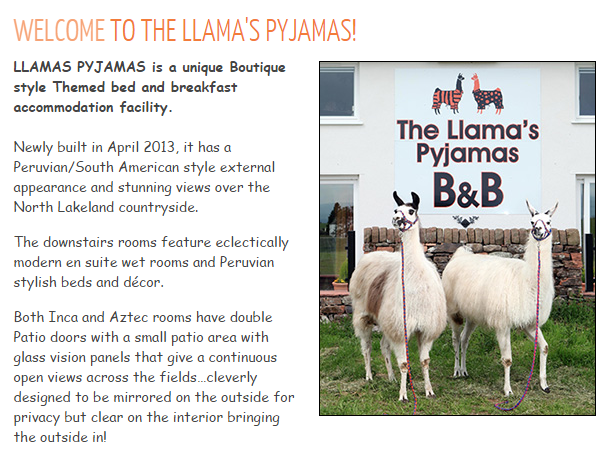 Here is an example from a unique boutique bed and breakfast called The Llama's Pyjamas. The boutique offers themed rooms, as well as having several llamas on their site and activities where guests can interact with them. There are several unique facilities that this B&B can offer: there aren't many other bed and breakfasts that offer similar certainly helping it to stand out. Other sectors can learn from this and ensure that they are advertising what makes them unique and stand out against their competitors.