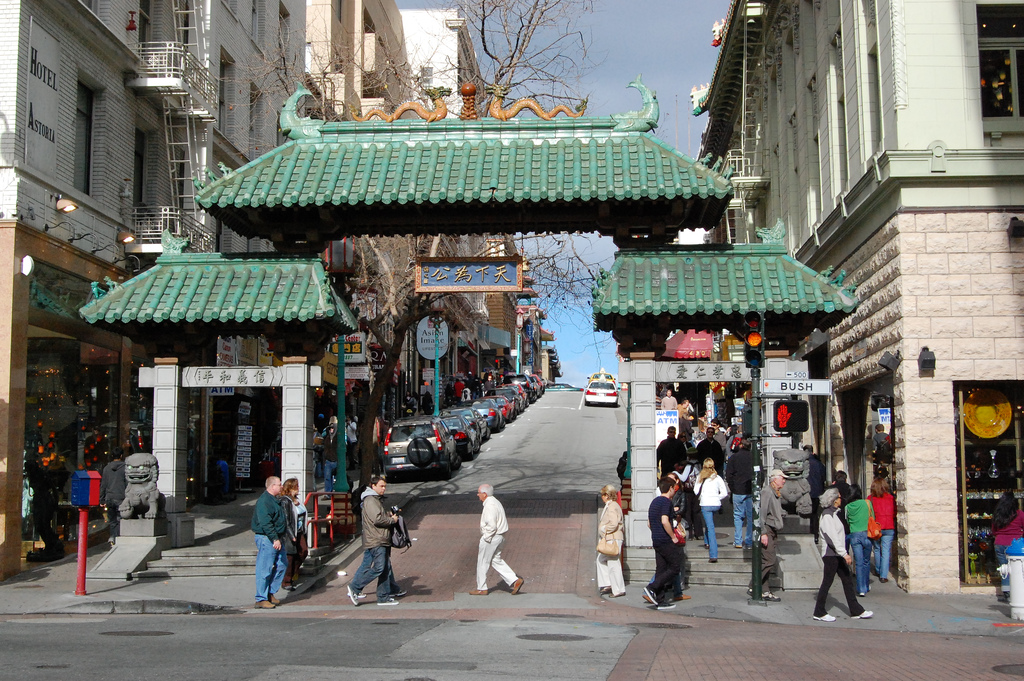 If San Francisco is on your bucket list, you'll want to make time for a visit (or two) to its famous Chinatown.  Located around the area of Grant Avenue and Stockton Street near the city's North Beach, San Francisco's Chinatown is the largest Chinatown community outside of Asia.
The neighborhood was established in 1884 and is both a unique ethnic enclave and a major tourist attraction, captivating more visitors each year than the Golden Gate Bridge.   As you plan your visit to this unique community, here are several must-visit destinations in San Francisco's Chinatown.
Chinatown's Dragon Gate
The entry to San Francisco's Chinatown is one of the most photographed sites in the City by the Bay.  The Dragon Gate is located on Grant Avenue at Bush Street and is modeled after ceremonial gates found in Chinese villages.  This iconic gate was dedicated in 1970 and has a stone base with adornments of dragons and fish sculptures, flanked by two large lion statues that promise to ward off evil spirits.
Golden Gate Fortune Cookie Company
Did you know that fortune cookies aren't an authentic Chinese creation?  In fact, they come from California and San Francisco has long claimed to be the birthplace of these historic treats.  In the heart of Chinatown, you'll certainly want to visit this tiny fortune cookie maker that offer free informal tours. The Golden Gate Fortune Cookie Company on Ross Alley in Chinatown has just three employees and hand-prepares these delectable treats seven days a week.
The Iconic Z & Y Restaurant
You can't visit San Francisco's Chinatown without settling in for some authentic Chinese cuisine.  One thing you'll likely notice it that there is an abundance of choices for your dining pleasure in this bustling corner of the city.  It's important to note, however, that not all choices are the same.
A top recommendation in San Francisco's Chinatown is Z & Y Restaurant.  Located on Jackson Street just east of Grant, this world-renowned and award-winning Chinese restaurant has been the first choice among locals, tourists, and visiting dignitaries.  Distinguished guests that have dined at Z & Y Restaurant include Presidents and Foreign Ministers of China and even President Obama.
Z & Y Restaurant is a 2017 Michelin Bib Gourmand recipient.  The restaurant is well-known for its Szechuan style food, cooked with authentic mainland Chinese ingredients and methods.  Traditional spicy favorites include Chicken with Explosive Chili Pepper, Spicy Fish with Flaming Chili Oil, and Prawns with House Spicy Sauce.
Tien Hau Temple
Once you've had your fill of authentic Chinese cuisine, a quiet walk might do you (and your stomach) some good.  This area of this city also has a deep history that is more spiritual in nature.  Just a block from Grant Avenue is Waverly Place.  Here you'll find the Tien Hau Temple, which is the oldest Buddhist temple in the United States.
The temple was established in 1852 by Chinese immigrants who came to California during its Gold Rush era.  While the original temple burned down in the aftermath of the 1906 San Francisco earthquake, the new temple was quickly established in the current location.  This remains an active Buddhist temple, where worshippers come to leave offerings and burn incense for the promise of happiness.
San Francisco's Chinatown is an enchanting part of this unique city that is a must-visit.  Whether you come to shop, take keepsake photos, or dine on authentic Chinese cuisine, your visit promises to be a rewarding experience.